Profile visits is one of the prime metric that one should pay attention to, in order to do successful Instagram Marketing. Often profile visit is the very first step in the Instagram marketing conversion journey. And if you are successful in generating more profile visits, you are one step closer to conversion.
In this post, we are going to discuss five actionable and straightforward ways that helps you to generate more visits on your profile. First, let's understand what are Instagram profile visits and how to check profile visits on your Instagram profile.
Understanding the profile visits
This metric – profile visits is similar to the number of visitors on your website. The only difference is that this happens on Instagram platform.
When you sign up on Instagram and create an account; you get an unique account known as profile on Instagram. When any person on Instagram visits your profile, it is counted as one profile visit. The profile visit could happen because of multiple reasons like they discovered your content on Instagram, discovered your Instagram profile from your website or directly visited your page by searching. Also, if one person visits your profile twice, it is counted as two profile visits.
Now that you understood the metric profile visits, let's understand how to check profile visits on Instagram.
How to check Instagram profile visits?
There are multiple ways to check Instagram profile visits. One way is to check the insights of your Instagram profile. Login to your Instagram account on your mobile device and follow the steps below:
Step 1: Go to your profile and Click on the Insights (refer to the images below)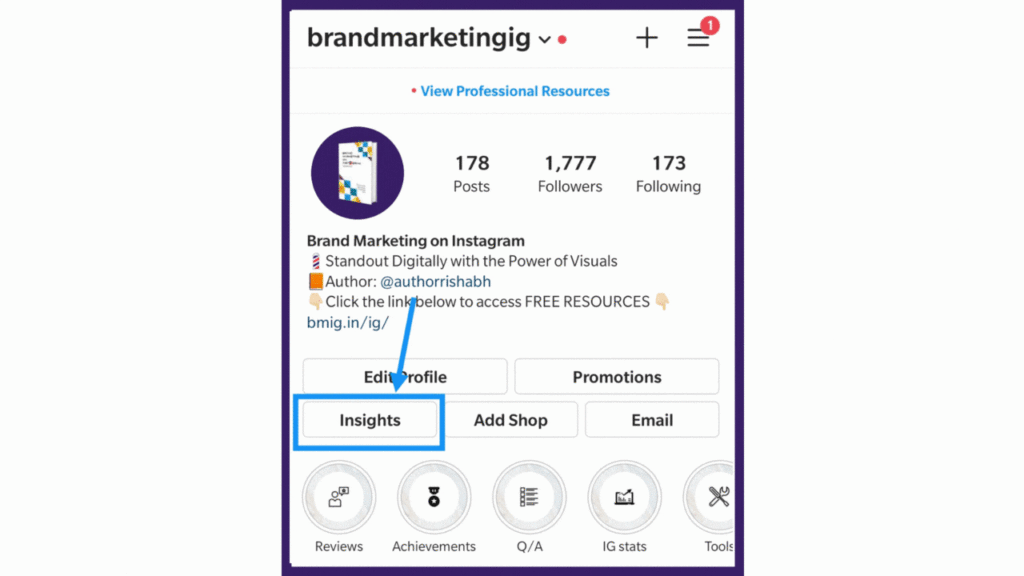 Step 2: Now, click on accounts reached and there you can see the profile visits compiled for a week.
Since, Instagram updated to new Insights, it is not possible to check each day profile visits via Instagram insights on mobile. You need to go to creator studio by Facebook to know in-depth about each day profile visits.
Ways to increase profile visits
Engage
Engage in meaningful discussions on top content for more profile discovery. More profile discovery is directly proportional to more more profile visits.
List down all the hashtags that are highly related to your business. One by one search for that hashtag, visit the hashtag page.
You'll discover two tabs – TOP and RECENT. Check the content in TOP tab.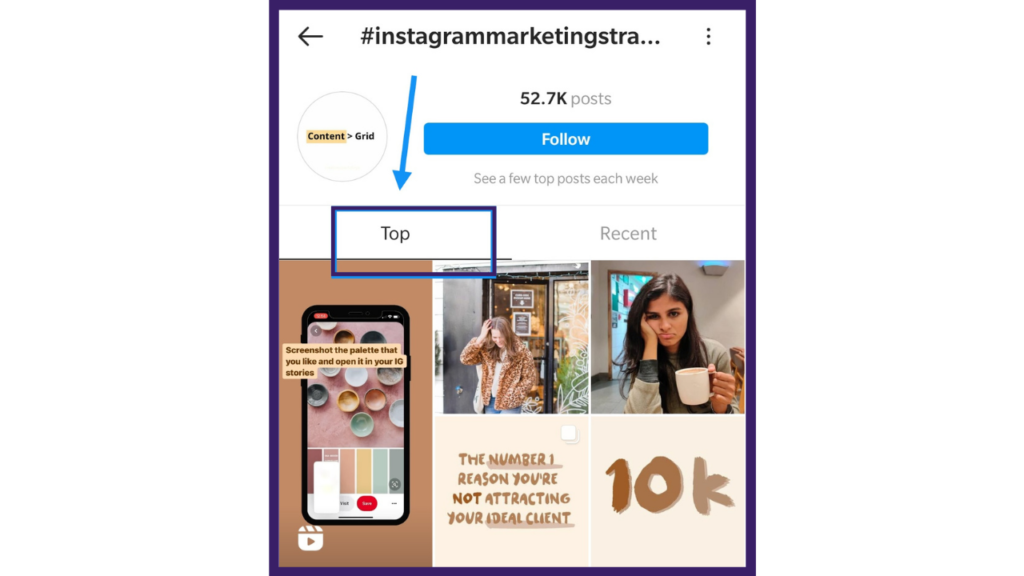 Now, this is the content that audience is liking and this piece of content is much more discoverable. Engage, post meaningful and valuable comment so that when audience check the comments on that content they discover your profile. And if they like the value you added in comments, they'll visit your profile.
Moreover, try to leave comments such that the creator of the post should engage with your comments. If they engage with your comment, it is more likely that your comment will be shown on the top of other comments on that post. And, once your comment is on top, you are more likely to be discovered by your target audience; thereby increasing profile visits on your Instagram profile.
Meaningful content
Content is the key, it is the soul of your Instagram profile. If your content is worthy and brings value to the audience they are more likely to visit your profile time and again.
You might be asking what is meaningful content. Well! a meaningful content has the following elements
Rich in content
Detailed explanation in captions
Solve audience problems
Easy to consume: Use different content types like Video, IGTV post, REELS, single image, carousel post so that it becomes easy for viewers or your followers to understand what you want to convey.
Analyze the content that gave most profile visits:
Well! Instagram insights give you the privilege to check which content gave you the most profile visits. All you need to do is, follow the steps below:
Go to Instagram Insights, scroll down a bit and you'll see 'Content you shared' Tab. On the right of this option, click 'See All'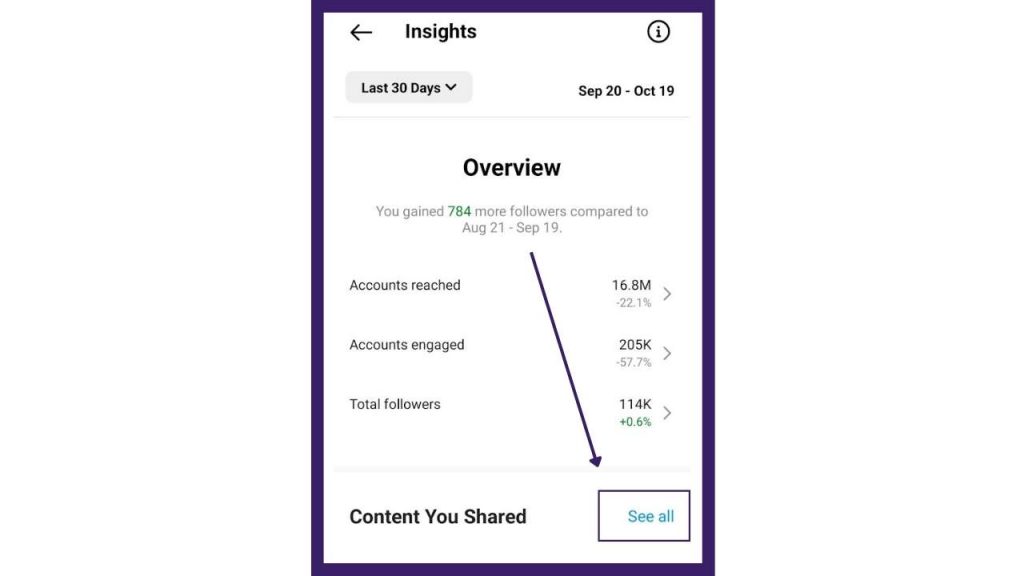 Next, you'll see the content you shared in the past. Now, you need to segment this content as per 'Profile Visit' metric.
Click on 'Sort and Filter' at Top. Select 'Metric' and click on 'Profile Visits'.
Here, you'll see the content that gave the most profile visits to your profile. This is the content by which audience feel interested in your profile. Analyze this content and work on these lines in future posts to gain the most profile visits.
CTA REEL Videos
Video content consumption is much more in 2020 and REELS is one thing to look forward to. It is giving you more reach and makes your profile much more discoverable.
So, what does CTA REEL video mean?
It means to create reels content and at the end include a CALL TO ACTION. The CTA could be – visit profile for more, Check the Link in bio.  This way, you are urging the viewer to check your profile and thereby generating more profile visits.
Hashtags
Hashtags will take your content to much wider audience. Researched hashtags makes your content visible to the right audience and when you are generating meaningful, valuable content; hashtags will give you more discovery. And when your content is discovered more, there are chances that more people visit your profile.
It is recommended to use relevant hashtags as per the context of your post. Using irrelevant hashtags could bring non-targeted traffic to your Instagram profile. To help you in this, we have also provided a hashtag strategy.
Tag people
While posting new content tag people or the accounts you think will like the content. The people you tag in your content will get a notification and are likely to visit your profile. 
So, these are the ways to generate more profile visits. For more useful posts on Instagram marketing, keep visiting our blog.
Related read: How to lift Instagram shadowban