In this era of visual marketing, Instagram is one platform that is used by most of the businesses around the globe. While trying to gain more visibility and reach on Instagram, we sometimes do steps that could result in shadow-banning of the Instagram account.
What is shadowban on Instagram?
Shadowban means your posts are shown to very less number of people on the platform. Even the posts are not shown to all the followers on their timeline.
How could shadowban happen?
Shadowban could happen as a result of any of the below mentioned reasons:
Your posts are against the community guidelines of Instagram.
You are using hashtags that are banned.
Someone reported your content.
You are using bots on your Instagram profile.
You gave access to un-authorized third party apps.
If someone reports your content, Instagram manually reviews the content. And if it is found to be against the guidelines, your account will face an action.
What happens if my account is shadowbanned?
If your account is shadowbanned, the posts will get much lower organic reach.
How to check if my account is shadowbanned or not?
Here, in this post, we are going to discuss two techniques using which you can check if your account is shadowbanned on Instagram or not.
Method 1: Manual technique
In this technique, you need one more account to verify the process or you can ask someone to help you. Follow the below mentioned steps:
Here is the step-by-step procedure to follow to identify if the account is shadowbanned or not.
Do a new post with the regular hashtags you use.
Login to other account or ask someone to help you – Make sure that the account you are using to check is not following the account you want to check.
After logging-in, go to all the hashtag pages that were used in the post.
If the post is showing on the hashtag pages (check the recent posts) than it is safe otherwise the account is shadowbanned.
Method 2: Triberr
In this method, you don't need to do anything manually. Just go to Triberr shadowban tester and fill the username of your Instagram account. Triberr automatically detects your recent 10 posts and if any post is shadowbanned, it'll show you and even the hashtag for which it is shadowbanned.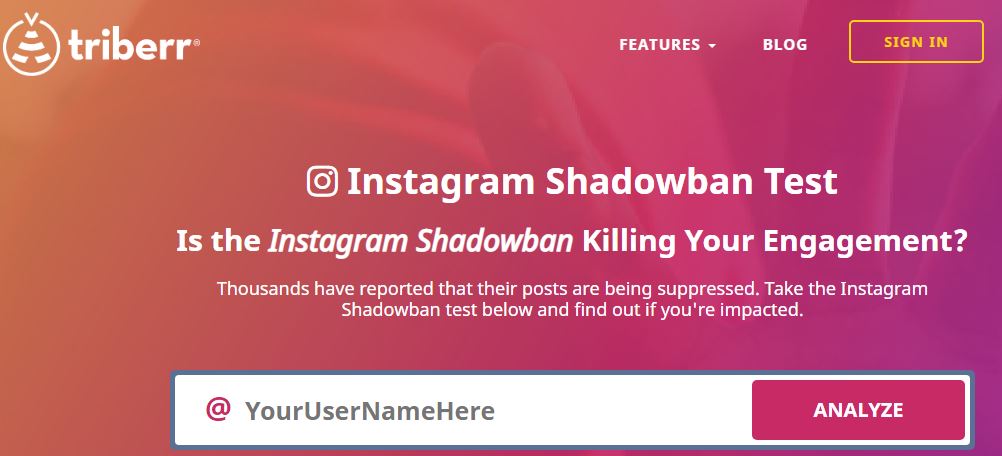 Algorithm of Triberr: Triberr used the same algorithm as of manual technique. When you fill the username, it detects if your post is showing for that hashtag or not. If the post is showing, it shows safe otherwise the hashtags are highlighted for which your post is not showing.
How to remove shadowban on Instagram?
Follow the below mentioned steps to remove the shadowban on your Instagram post or profile.
First of all, delete the hashtag from the post that resulted in shadowbanning of your profile.
In the next posts, make sure that the hashtags you use are carefully researched. Do use the Instagram hashtag strategy provided by us for more knowledge about Instagram hashtags.
Make sure you follow the community guidelines of Instagram.
Don't use any bots for Instagram growth.
In this post, you learned everything about Instagram shadowban. If you have any queries regarding the shadowban or shadowban testing techniques on Instagram, do let us know in the comments section below.